CBRE Group, Inc. is the world's largest commercial real estate services and investment firm and is routinely included on the Fortune 500. Located high above Park Avenue, CBRE's Manhattan office features multiple conference rooms and huddle spaces integrated with Zoom video conferencing software. Zoom Rooms integration simplifies three of the biggest conference room pain points: starting a meeting, booking a meeting and content sharing.
Need to easily share a presentation on your laptop to a conference room display? Zoom offers one-click screen sharing so users can connect and share content from their device. The room controller emits an ultrasonic signal detected by the Zoom Rooms Client. Once the signal is detected, the device automatically connects when the user clicks the share button. If not detected, users simply enter a passcode on their device to connect.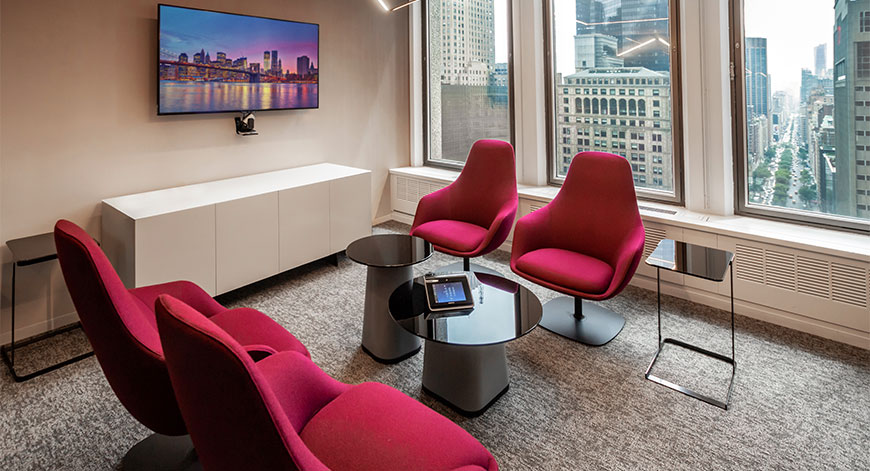 Since Zoom Rooms can be optimized for every room size, the same system works in CBRE's conference rooms or huddle rooms and is compatible with an array of thirdparty equipment. The same user experience means staff are trained and familiar with the system no matter the location, which results in higher utilization and productivity. For example, in one of CBRE's conference rooms, Zoom combines the room's 70" commercial display, ceiling loudspeakers, PTZ camera, beamtracking microphone and 7" touch screen tabletop control panel into one, easy to use system.
Down the hall, CBRE's huddle room uses the same Zoom Rooms functionality with the room's 60" commercial display, speakers, ceiling microphone, PTZ camera, iPad and the room's Mac Mini. Zoom's compatibility with a host of third-party hardware and ability to work with Office 365, Google Calendar or Exchange create a solution that is scalable and adaptable to a variety of workspaces whether it's a Fortune 500 company or a small business.