Oracle, one of the world's largest software companies, recently completed the initial phase of a 565,000 SF campus outside of downtown Austin. As part of their plan to capture Austin's growing pool of young professionals, Oracle's executives sought an AV solution that would inspire and excite potential talent from the moment they walk in the door.
In fact, you would be hard-pressed to not stop and gawk at the HUGE Direct View LED video wall that greets you in their front lobby. Not to mention the entryway's impressive vault ceiling, floor-to-ceiling glass wall and hanging walk path. As you walk through the building you will discover digital signage in a further 100 locations throughout campus as well as 98" UHD 4K displays, in-ceiling loudspeakers and a 4K digital media switcher in their CustomerVisit Center conference rooms.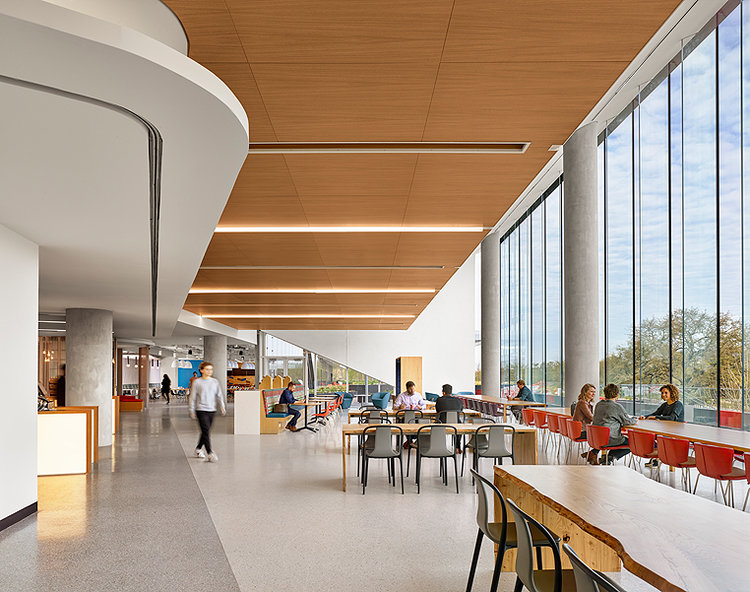 If that weren't enough, additional employee perks include a cafeteria on site, a training center stocked with workout equipment, game rooms for table tennis and even a flag football field. The location is a perk in itself as it's only a short drive from the Central Business District with access to mass transit and the hike-and-bike trails around Lady Bird Lake. Oracle has also pursued less traditional means to appeal to young graduates, including buying the adjacent Azul apartment building where employees can live within a short stroll from the office.
Oracle has already invested at least $300 million on their new Austin home and are not finished yet. Executives expect the location could grow to a 10,000 employee headcount as the company expands and erects more buildings on their 40-acre campus. No doubt their investment in AV technology will play a large role in getting recruits excited about working for Oracle.